France is one of the best medical device markets you can enter in the European Union and probably in the world. This informative article is about helping you understand why, and how to find a French medical device distributor.

This post will examine why working with a local partner in the French market can be a wise decision for your medical device business.
We will explore where to find them and approach them as they will help you achieve quicker market penetration and success.
So, let's dive in and discover how your medical device business can thrive in France thanks to a medical device distributor.
Reasons to have a French medical device distributor
There are multiple reasons for deciding to work with a distributor in the French market. We'll review why relying on a local partner to develop your French medical device market would be a good option.
The French Medical Device market size
France is one of the largest medical device markets in the European Union and Europe. France's medical device market is estimated to have reached a size of +36 billion USD, from which +12 billion USD are from imported goods from other countries (including 4.4 billion USD from the USA). 92% of the market is composed of SMEs, which is a good advantage for foreign companies, as their competition aren't necessarily much larger companies.
Medical Device market & cultural knowledge
Selling to French hospitals, surgeons, specialists, doctors, or dentists isn't an easy task. There is always a cultural component of each new international market expansion. France is no exception to the rule. The French medical device market is driven by relationships: social selling is a critical component of success in sales. French people tend to buy from people or companies they know and like. If you're the new person in town, it's always good to be accompanied by a local to introduce you.
Selecting a French distributor will give you quicker access to deep relationships with hospitals and doctors. Distributors know their market: it's their bread and butter. They can take your products to the most profitable places and help you save precious time in market penetration. They have an accurate view of which of your product or service key selling points will trigger sales and what you must adapt to generate more revenues.
Another critical element is that English isn't used often in France, not in public tenders and business. Doctors and surgeons often speak good English, but this may not be true for hospital managers, purchasing managers, and others placing orders.
Quick Medical Device market access
Your distributor might be a well-known company that is respected and appreciated. If so, it will surely boost your market entry. They are just one phone call away from existing clients to promote your products. They have an existing network of clients and leads to provide to you from the get-go.
Moreover, unlike you creating your French subsidiary, they have an existing structure and team. Imagine the time it'll take to obtain organically leads in your CRM, discuss with logistics suppliers, and start making your first sales. They know the people, know their fleet of medical device machines, and the purchasing procedures to sell them new ones.
Easier attraction of French Key Opinion Leaders
Sales in the Medical Device industry are frequently influenced by Key Opinion Leaders, making them a crucial factor in driving product success. Key Opinion Leaders give feedback on medical devices, help you build courses on your products, and deliver the courses. French Key Opinion Leaders are no different.
However, French surgeons, specialists, and doctors are recognized being some of the best you can find. As a result, it is challenging to enroll a famous French Key Opinion Leader to collaborate with you on your medical devices. The competition is harsh: there are many other companies (including your competitors) that are chasing them. Be prepared to give them a lot of incentives to onboard them and to promote them actively to retain them.
Local aftersales support
Medical devices are sold in an environment where local aftersales support is essential. It is a matter of patient health issues and money saved for users. It is why you want to pay attention to this issue.

French buyers of medical devices (hospitals or doctors) will expect you to have a local person to talk to and in French! Hospital technicians or doctors' assistants who will deal with the product issues may not be the best English speakers: they need accurate, fast, and comprehensible responses to their questions. For some, time is money; for others, the patient's health is at stake.
This is where an effective French distributor of medical devices comes into action. Most of them have an aftersales service that will deal with user issues. They often have a hotline where doctors can reach technical support anytime. Sometimes, a person from their team assists the doctors during surgeries or operations.
Running transactions & payment terms
It would help if you had someone to run transactions and offer payment terms to your French clients. Doctors and hospitals often buy their medical devices with favorable payment terms.

There are two kinds of buyers: public and private buyers. Public buyers often publish tenders (call for bids), and mainly in French. You will need someone speaking French to complete an application for your medical devices. In addition, they might have to buy from a company located in France, or at least in the European Union.

Private buyers are often smaller. Even if they have more liberty in choosing whom they buy from, they possibly couldn't import your medical devices due to a lack of importing knowledge (i.e., customs duties, administrative tasks). Moreover, in some countries, importing medical devices may designate your company as the legal representative towards the health authorities. It's a consequence you may not want to trigger.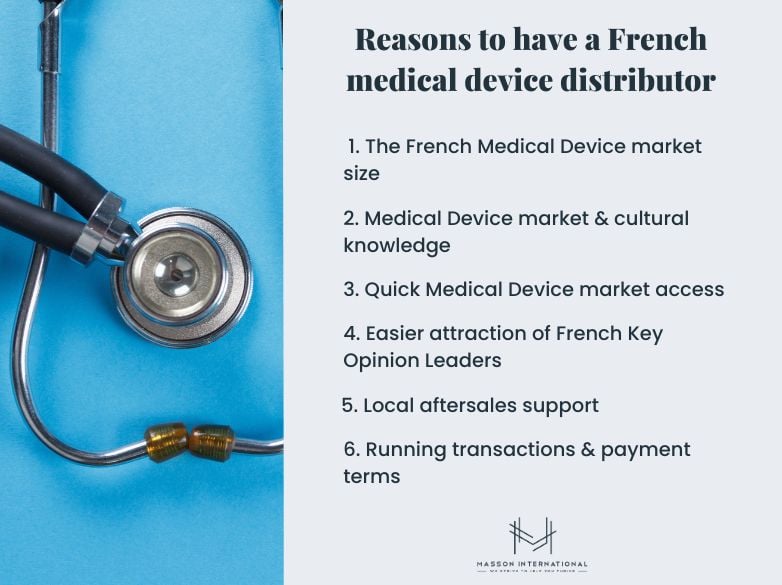 Information to know before selling a medical device in France
Have the CE mark for your medical devices
To sell your medical device in France, it is mandatory to have the CE mark. The CE mark is a certification that indicates your product complies with the essential health and safety requirements of the European Union. It is a mandatory requirement for medical devices in France, as well as other countries in the EU. For more information on the CE mark, you can check our article.
Having the CE mark not only ensures that your medical device meets the necessary safety and quality standards, but it also gives you credibility and trust in the French market. It demonstrates that your product has undergone rigorous testing and evaluation, providing assurance to healthcare professionals and patients alike.
If you do not have the CE mark for your medical device, we recommend seeking assistance from French partner companies specializing in regulatory affairs for medical devices. We have French and Swiss partner companies in regulatory affairs specializing in medical devices. Feel free to contact us for further information. These experts can guide you through the process of obtaining the CE mark, ensuring that you meet all the requirements and regulations.
Make sure you comply with French medical device laws
Medical devices are heavily regulated, including in France. Depending on your medical device's category, you may face certain limitations in advertisement, marketing methods, and sales techniques. These regulations are in place to ensure patient safety and maintain the integrity of the medical device industry.
When it comes to advertising medical devices in France, strict guidelines must be followed. The information you provide in your advertisements must be accurate, fair, and not misleading. Additionally, specific claims about the effectiveness or benefits of your medical device may require scientific evidence to support them.
In terms of marketing methods, you may be limited in how you can promote your medical device to healthcare professionals and potential customers. It is essential to familiarize yourself with the regulations and guidelines set forth by the French authorities to ensure compliance.
Sales techniques for medical devices in France may also be subject to regulations. For example, there may be restrictions on the use of specific sales incentives or promotional offers. It is crucial to understand the legal framework surrounding sales practices and ensure that your approach aligns with the guidelines provided.
In addition to these regulations, it is crucial to consider the language requirements for packaging and labeling your medical device. In France, packaging and labeling must be in French or have a French translation. You must also place mandatory information on the labels (for example, notifying body, importer, official representative towards the medical authorities). This ensures that healthcare professionals and patients can easily understand the information provided and use the medical device safely.
Get to know the French reimbursement policy
Each country has its reimbursement policy. Before deciding to enter France, you want to know the reimbursement policy for your medical devices. Two different reimbursement policies could apply to your market potential: reimbursement of medical operations or medical devices (for the private use of individuals).
If you sell a technical medical device to hospitals or doctors, check if reimbursement of health operations linked to your medical devices is available in France. People tend to undergo surgeries if reimbursed by the French government. If reimbursement is available, the number of operations in France might be higher than in other countries, as individuals won't have to pay for it (or partially).
If you sell medical devices to individuals, check if they can get reimbursement from the national health insurance (integral or partial refund). This can lead to increased sales potential.
Obstacles to finding a French medical device distributor
Your competition has French subsidiaries
It may be complicated to find French distributors if too many competitors already have a subsidiary in France. Distributors may think the competition will be too harsh against companies that dedicate 100% of their time to selling only their brand.

Selling medical devices requires conducting marketing and education activities; your competitors may have a team in place to do that, while potential distributors may refrain from creating one just for you. For your reference, there are in France +1500 medical device companies present.

We had one mission for a manufacturer of medical devices in which all of their competitors have subsidiaries in France, and which is evolving in a very mature market. It took much work to find them distributors, and even if two distributors were interested in talking to our client, they were not exactly jumping to the roof to accept a first meeting.
The French medical device market is mature
France is a very mature market: most medical device technologies have made their way to the country. Finding a distributor will be more challenging if your medical devices do not bring a disruptive innovation or if the technology is already present in France.

If that's the case, your quality, image, or price level will be the only selling point. Moreover, you'll have to identify distributors who do not already sell competing products to yours to make your way in the French medical device market.
Other classic challenges of finding a French distributors
Finding a French distributor (not necessarily in the medical device industry) comes with numerous challenges as well: the language barrier, the French decision-making process, the ways to approach distributors.
Steps to find a French distributor
1. Confirm your market-entry strategy
The first thing to do will be to confirm your market-entry strategy: is finding a distributor the best way for you to enter the market? If you are encountering the obstacles above, maybe not. You may want to create your own subsidiary.

You also need to define which medical devices (if you have many) will be the focus for the French market; they may not be all fit for the French market.
Then, you will have to study the sales channels of your medical devices: who buys them? Where and from whom? Are there intermediaries in between?

Once these questions are sorted out, you are ready to make the profile of your ideal French medical device distributor.
2. Identify the French medical device distributors
To find the best distributors of medical devices, you must list all of them before reaching out. Before further negotiations, you must build a list of minimum criteria your partner must reach. Once you have the list of criteria sorted out, start ranking the distributors in your list from 1 to 5 before approaching them (1 are the best ones, 5 the "not to contact").
It is essential to keep all the competencies in mind to rank them: sales, marketing, aftersales, compliance, logistics, education activities, working with KOLs, etc.
3. Approach them
Our company helps manufacturers like you approach French distributors. Here is the recipe we generally use:
Rank distributors in a list. All the ones we can find.
Prepare a short presentation to convince them that the medical devices you sell are a fit and all the advantages they gain by becoming distributors.
Approach them in the local language. The first approach is by email.
Call them to discuss the first email.
During the call, schedule a formal videoconference to present the company and its products.
Plan a visit to their location shortly.
Draft a commercial contract and prepare future negotiations.
Visit their premises and make an educated decision before signing an agreement.
Sign an agreement (reviewed by a law firm to prevent future issues).
Revisit them and train their team.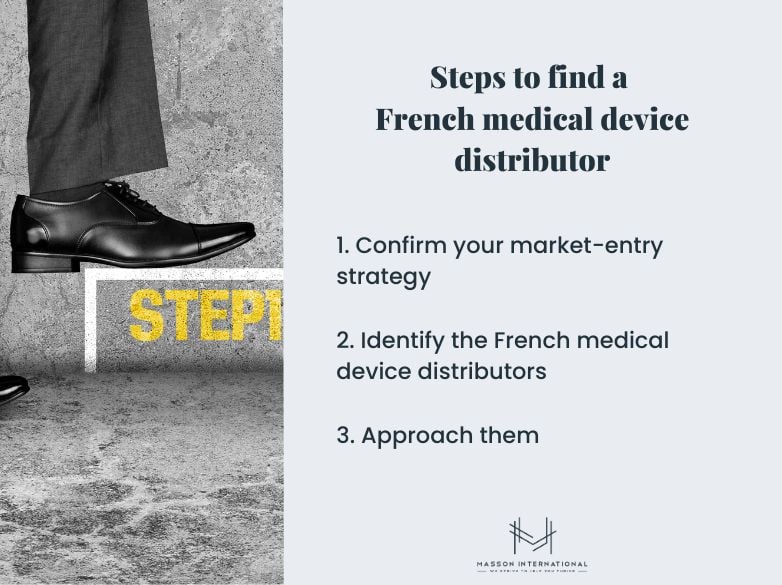 Advices and Pitfalls to avoid in finding a distributor
Selecting the first one who replies
Selecting the first distributor who responds to your outreach may seem tempting, especially if you're eager to enter the French market quickly. However, it's important to exercise caution and avoid rushing into a partnership without thoroughly evaluating all your options.
While it may be enticing to go with the first distributor who shows interest, conducting a comprehensive evaluation of their capabilities, experience, and alignment with your business goals is crucial. Choosing a distributor solely based on their prompt response may lead to regrets if they are not the best fit for your medical device.
Instead, take the time to compare and contrast multiple medical device distributors, considering factors such as their track record, customer base, distribution network, and expertise in the medical device industry.
By thoroughly evaluating multiple options and not rushing into a partnership with the first respondent, you can increase your chances of finding a reliable and effective distributor to help you achieve your goals in the French medical device market.
Not checking its network, its reputation, and its aftersales services
Look for distributors with a proven success track record and a solid understanding of the French market. Additionally, consider their reputation, references, and any feedback from other clients or partners they have worked with.

Furthermore, conducting face-to-face meetings or video conferences with potential distributors is vital to assess their commitment, professionalism, and understanding of your products. This will allow you to gauge their enthusiasm, ask relevant questions, and ensure they have the necessary resources, infrastructure, and compliance capabilities to distribute your medical devices in the French market effectively.
Not checking if he complies with French and EU laws
This step is essential to protect your business and ensure that your medical devices are distributed in a legal and compliant manner. When assessing distributors, it is important to verify their adherence to French and EU laws regarding the distribution of medical devices.
This includes regulations related to product safety, sales tracking, quality management systems, labeling requirements, and any other applicable regulations. By choosing a distributor who complies with these laws, you can minimize the risk of legal issues and non-compliance.
Additionally, distributors should have a clear understanding of the regulatory requirements and be able to provide evidence of their compliance. This includes maintaining proper documentation, conducting regular audits, and staying up to date with any changes in regulations.
Furthermore, distributors should be knowledgeable about the specific requirements for medical devices in the French market. This includes understanding the French regulatory authorities, such as the National Agency for Medicines and Health Products Safety (ANSM), and ensuring that all necessary certifications and approvals are in place.
Where to find distributors in France?
Industry associations
One of the most effective ways to find medical device distributors in France is through industry associations. These associations often have member directories that provide a comprehensive list of distributors in various sectors, including sub-sectors of the medical device industry. By accessing these directories, you can easily identify potential distributors for your products.
Industry associations serve as valuable resources for connecting manufacturers with distributors, as they have extensive networks and connections within their respective industries. These associations are dedicated to promoting and supporting the growth of their members' businesses, making them a reliable source for finding reputable distributors.
In addition to directories, industry associations often provide various resources and support services for their members. This can include educational programs, networking events, and industry conferences, which can be valuable opportunities for connecting with potential distributors and establishing relationships within the industry.
Tradeshows
Visiting a French tradeshow is an excellent solution to identify French medical device distributors and to talk to them on the spot. Regardless of whether they are interested in distributing your products, they will take the time to speak with you and share valuable insights on the French medical device industry and your sales potential.
Before traveling to the tradeshow, preparing it by emailing exhibitors and showing them your products while mentioning you will be visiting is always beneficial. The most interested distributors will ask you to schedule a formal meeting; it's a great way not to leave an opportunity off the table. Not preparing a tradeshow in advance is the best way to miss a great distributor if you don't see their booth.
Take a look at the best medical tradeshows in France and in Europe.
Online directories & desk research
Online directors such as Kompass or Europages sometimes make an inventory of French distributors. It could be an excellent starting point for desk research.
Searching online in multiple search engines helps identify a few distributors. There are better methods to find an exhaustive list than this one, but it can show some interesting results sometimes.
In conclusion, entering the French medical device market can be a wise decision for your business. The market size is significant, and the competition isn't necessarily much larger companies, which is an advantage for foreign companies.
However, the French market has its unique cultural and language component, which can pose a challenge for foreign companies. That's why partnering with a local French medical device distributor can help you achieve quicker market penetration and success. They have an accurate view of the market and can take your product to the most profitable places. They can also provide local aftersales support, which is crucial for users' patient health issues and money saved. Finally, they can assist you in making it easier to conduct business in the French market.
Masson International helps foreign manufacturers enter the French, Swiss and Belgian markets. Our team conducts market studies, distributor searches, business development and sets up HR solutions and set up companies in France, Switzerland and Belgium.