Any firm looking to go international might greatly benefit from having international distributors.
These distributors are in charge of marketing and distributing a company's goods in international markets, enabling enterprises to connect with customers they otherwise might not have been able to.
However, working with distributors abroad presents its own distinct set of difficulties.
Cultural variations are among the most crucial factors to take into account when working with international distributors. Every nation has its own traditions, laws, and commercial habits. What is effective in one nation might not be effective in another. Working with distributors who have expertise in doing business in each area is crucial. It is necessary to take the time to comprehend the cultural subtleties of each market.

Working with overseas distributors presents another communication problem. Language limitations can lead to miscommunication and make it challenging to deliver crucial information. It's critical to have open lines of communication and ensure that everyone speaks the same language.

It's crucial to thoroughly vet prospective partners before choosing overseas distributors. Look for partners with a solid reputation and a history of success in your target markets. Building trusting connections with your distributors and providing them with the resources they need to succeed is critical.

Working with foreign distributors may be a fruitful approach for businesses to increase their reach and strengthen their global presence through careful planning, collaboration, and communication.
The Four Cornerstones of Cooperating with an International Distributor
1. Onboarding: Building a Successful Foundation
Recognize your distributor:
Before signing a contract, do extensive research to assess the standing, market reach, and suitability of potential distributors for your company's objectives.
Clearly express your expectations for sales targets, market coverage, and performance indicators to make sure that everyone is working toward the same goals.

Legal considerations:
Create a strong contract that spells out each party's rights, liabilities, and obligations, and that includes termination and intellectual property protection terms.

Choosing the Right Distributor:
Carry out extensive research to identify a distributor who is compatible with your target market, is knowledgeable about your product lines, and has a good track record. To ensure a suitable fit, consider their background, network, and distribution skills.

Setting Clearly Defined Expectations:
Define positions, responsibilities, and performance standards upfront. Specify the terms and conditions, pricing, exclusivity, intellectual property rights, and any other pertinent information in a distributor agreement.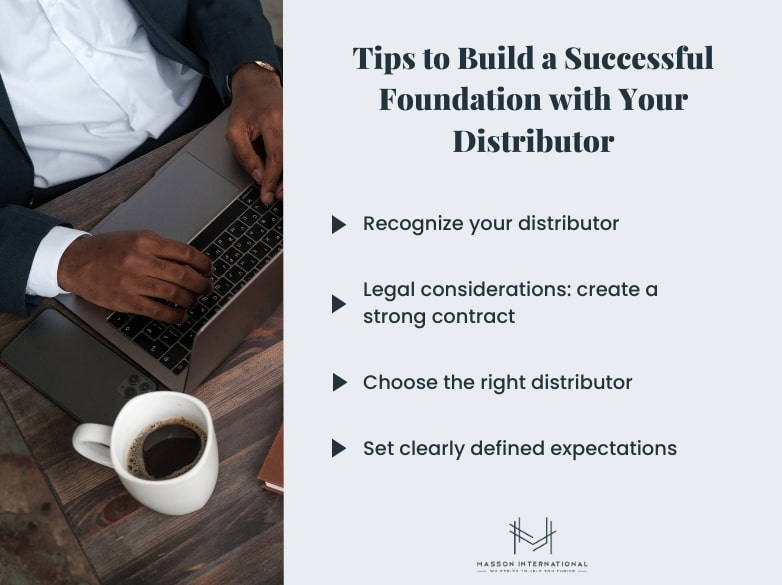 2. Training: Giving Your Distributor the Knowledge They Need
Product training:
Make sure your distributor's sales and support personnel are given in-depth training so they are fully aware of the features, advantages, and competitive advantages of your product or service.

Market knowledge:
To improve your distributor's ability to position and sell your items successfully, familiarize them with the local market dynamics, consumer preferences, cultural quirks, and legal requirements. Educate your distributor's staff thoroughly on your goods and services, including their features, advantages, and special selling points. They can market and sell your products more successfully with the help of this information
Ongoing support:
Provide ongoing instruction and assistance to solve any new problems, product updates, or modifications to the market environment.

Market Insights:
Disseminate market intelligence, such as consumer preferences, regional laws, and the competitive environment. Distributors are given the knowledge they need to modify their sales strategy and enter the target market with this information.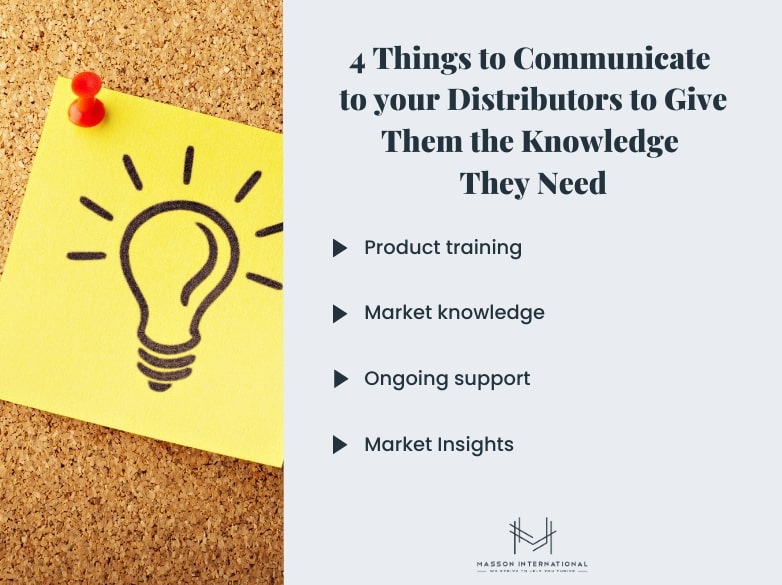 3. Communication: Opening Up Powerful Lines of Communication
Consistent communication:
Keep the lines of communication open with your distributor by holding regular phone conversations, meetings, emails, or video conferences to discuss potential problems, market insights, and sales performance.

Two-way feedback:
To promote ongoing improvement and strategy adoption, ask your distributor for feedback on client preferences, market trends, and rivals.

Resolving disputes:
To keep a positive working relationship, resolve disputes as soon as they arise and look for solutions that will benefit both parties.

Regular communication routes:
Create effective routes for communication to foster a strong working connection. Plan frequent in-person and online meetings to discuss sales results, market updates, and any possibilities or challenges.

Promote openness and two-way communication between your company and the distributor. Request their thoughts on upcoming upgrades, client feedback, and industry trends. Similar to that, offer constructive feedback to help them raise their game.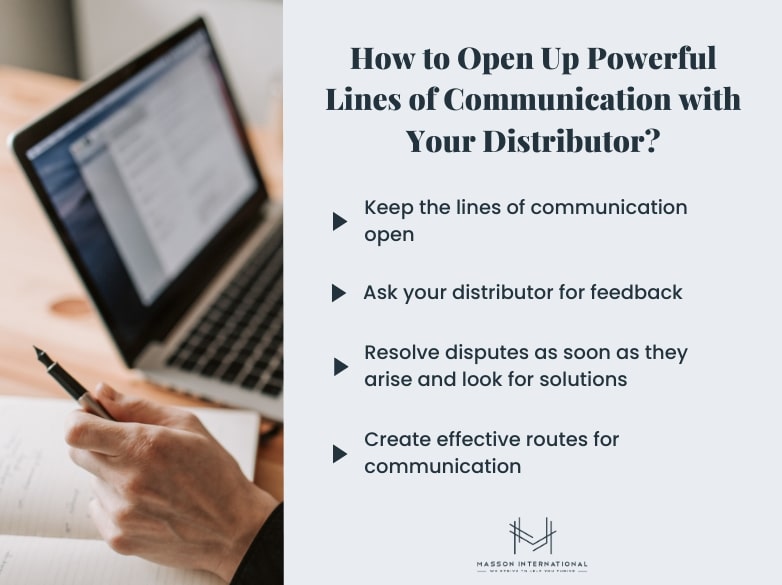 4. Follow-up: Providing for Long-Term Success
Performance assessment:
Analyze your distributor's performance regularly based on predetermined indicators, including sales targets, market share, client satisfaction, and compliance with contractual commitments.

Incentives and rewards:
To encourage motivation and loyalty, recognize and honor your distributor's accomplishments with incentive programs, performance bonuses, or special benefits.

Continuous improvement:
To maximize the long-term potential of the collaboration, look for chances to enhance your distribution network by finding areas for improvement, investigating new market niches, and expanding product lines.
Onboarding, training, communication, and follow-up are the four pillars that you should concentrate on to build a solid foundation for a fruitful engagement with your foreign distributor.
Keep in mind that cultivating relationships with your distributors requires continual work, flexibility, and a shared dedication to mutual success.

Prioritizing follow-up tactics is critical to ensuring long-term success with your overseas distributor. You may foster a healthy and successful collaboration by constantly measuring performance, giving rewards, and striving for continual improvement.

It is critical to evaluate your distributor's performance regularly to monitor their success and discover areas for development. You may evaluate the efficacy of your distributor's efforts by examining sales objectives, market share, customer happiness, and adherence to contractual commitments. This assessment enables you to make educated decisions and make the required modifications to promote success.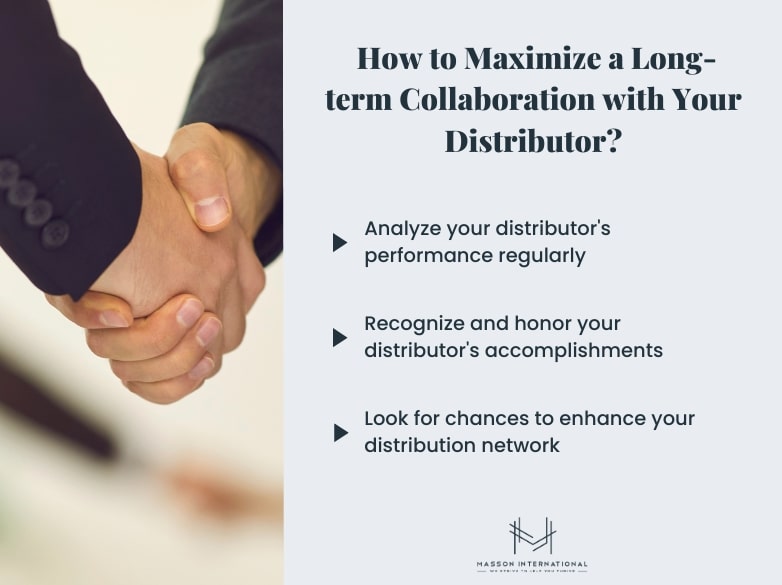 Conclusion
Working with an international distributor can give companies useful access to new markets and clients. To guarantee a successful relationship, though, rigorous planning, efficient communication, and continual support are necessary.

You can build a strong foundation for working with an international distributor by adhering to the four pillars of onboarding, training, communication, and follow-up. This will allow you to successfully grow your business in new markets.

Conduct extensive due diligence on potential distributors throughout the onboarding process, and be sure to express your requirements and goals in detail. Make a strong contract that spells out each party's duties, rights, and safeguards. Consider a distributor's suitability for your target market, familiarity with your product lines, and track record of success when choosing one.

Give your distributor thorough training that covers product expertise and an understanding of the dynamics of the local market. To aid them in modifying their sales strategy and successfully navigating the target market, provide them with ongoing support, updates, and market knowledge.