Switzerland is a great market to enter: it's looking for quality products, it's a very innovative country, and has a high purchasing power in B2B and B2C environments. However, setting up the proper import and distribution channels in Switzerland can take time and effort. We will explain below why the Swiss market is attractive, why you want a Swiss distributor to cover the market, and the main obstacles in finding your Swiss business partner.
Why would you have a Swiss distributor?
The list of business advantages of the Swiss market is quite long. We'll highlight here a few.

Dynamic economy and high purchasing power. Switzerland is one of the most competitive economies in the world and has the second-highest GDP per capita in the world. It frequently ranks among the 20 major global economies. The tertiary sector is the largest (+73%), but don't get me wrong; Swiss companies manufacture many products locally, with the industry sector representing 25% of the GDP. These include chemicals, pharmaceutical products, machinery and electronics, medical devices, and watches.

Although the Swiss population is small (8M inhabitants), it has topped the rankings of innovation and performance for many years. Fourteen Swiss companies are among the 500 largest companies in the world (market capitalization). 99% of businesses are SMEs with fewer than 250 employees, mostly family-business.

If finding distributors in other European countries interests you, we invite you to read our article How to find distributors in Europe and check our Partners page to see the countries where we can support you.
Finding a distributor in Switzerland: major obstacles
A country with four languages
In general, and contrary to France, Swiss people speak relatively good English. It won't affect your discussions and relationship with your Swiss distributor. At least for the cases we had for our clients, it wasn't the case. However, the country has multiple official languages.
Yes, Switzerland has four official languages: German (Swiss-German, to be precise), French, Italian, and Romansh. On a general basis, four parts of the country speak different languages.
They are of varying population size:
the German language represents +60% of the population,
the French language 22%,
the Italian language 8%,
and Romansch (a typical Swiss language) 0.5%.
We assume you could cover the Romansch part in German or Italian. You can see a map of Switzerland with the different languages spoken here.

This obstacle will not make your life easier because it means that although Switzerland is a small country (population-wise and size-wise), you will need to be careful in the strategy to adopt in Switzerland if you want to cover the whole country. Not all Swiss importers-distributors have multilingual teams that can effectively reach the entire country. Many of you were expecting a single distributor for your market entry: it may be more complex.

You may find multilingual Swiss distributors. Some are great for all regions, some are average where it's not their home region, and some say they can do it all, but it's barely true.
You will have to ask probing questions to your Swiss importer-distributor to clarify that point.
How often does he travel to the Italian-speaking canton?
How many French-speaking clients do they have?
How many German-speaking cantons (administrative regions) do they cover, and with which team?
We usually aim to find 1 to 3 Swiss distributors for our B2B clients. One, if the importer-distributor is highly effective with a broad multilingual staff, and three, if we need one for each language. It could be more if your distribution model requires many local sales points. You must adjust your strategy when you test the waters and start making calls to see what's out there for you.
Cultural difference in convincing your Swiss distributor
Take your time to convince
Finding a distributor in Switzerland isn't quick, partially for the previous reason and also for another one. Swiss people need time to build trust. Don't expect a Swiss distributor to sign after the first video call. They also don't like pushy people. Travel to Switzerland, meet the company's management and convince them of your product and service quality. You must sell the idea of a distribution agreement to the manager and the team onboard. Once they're convinced, you have a long-term partner for many years - if you don't screw up on quality and service.
Quality and service expected by your importer-distributor
Swiss people are often uncompromising with quality. It means your products must be on point and your service (delivery time, response to inquiries and problems) of the utmost quality. They usually don't compromise on this aspect, which is sometimes why Swiss distributors leave their principals, even after years of collaboration.
Business Etiquette
Swiss distributors are paying attention to your behavior. Swiss people don't like braggarts and loud people.
Make sure you follow simple rules to the letter:
Be on time - it's a watchmaker country remember? It's crucial.

Be prepared for the meeting

Be discreet, be reserved

Be formally dressed and in a conservative way (no bright colors, no shiny jewelry): it can be expensive but not braggy.

Respect work/life balance and separation (in requests and relations)



Not an EU country
Switzerland and its locals are proud to be neutral and independent. They aren't part of the European Union, only the Schengen area. Thus, the local currency is the Swiss franc, and customs fees or procedures sometimes apply depending on the country you're exporting from. Switzerland signed numerous bilateral agreements. You should discuss this point with your future Swiss distributor before negotiating prices.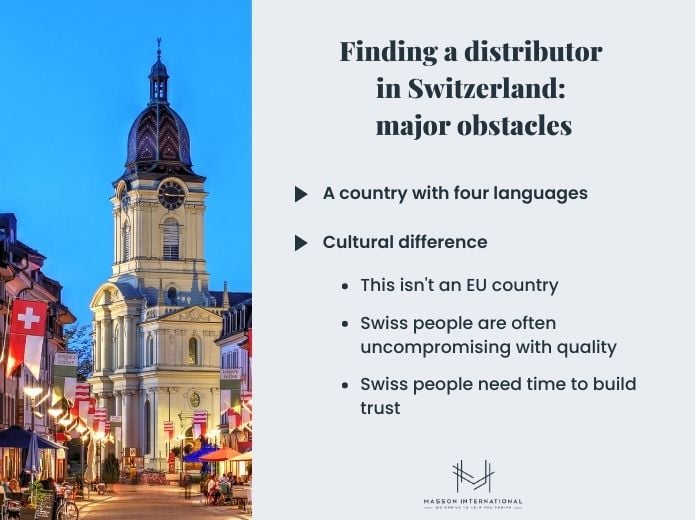 How to overcome the obstacles in finding a Swiss distributor?

Segment the country and run a native language search
When you search for potential importers-distributors, we recommend splitting the Swiss market into three regions: German-speaking, French-speaking, and Italian-speaking. Then run the search by area, ideally in the native language (see methods below). Once you identify candidates, carefully study them to see what regions they cover and with how many staff members. It will give you an idea of how many distributors you may need and which ones are the most capable and exciting.

If you need support, one of our core (and most asked!) services is the Distributor Search. Each year, we help dozens of foreign companies find importers-distributors in Switzerland and Europe.
Ask decisive questions
Asking precise and prepared questions is essential to understand your potential Swiss distributor setup and confirm its abilities. Many distributors want to appear better and more efficient than they are. Ask for proof of their statements if possible.
Convince and build trust
We always recommend that our clients (or other companies) interested in the Swiss market meet their potential partners. First, see for yourself what the company looks like before deciding. Then, start building trust with your partner. Swiss people need time to trust and to be convinced; it would be better to come and make the first step.
Review your product and service quality
As mentioned earlier, Swiss people and companies expect quality from their suppliers—more than other nationalities. Thus, be prepared to analyze your business's core areas and, if need be, upgrade them.
To prepare for your market entry, go through and refine:
Sales process: how easy is it to place orders for your Swiss distributor?
After-sales process: should one of their customers have a question, will your response time and precision be the best?
Product quality: do your products have excellent quality, or will bad reviews damage your brand?
Services: do you deliver quickly and on time or with frequent delays? Are your communication and marketing efforts with distributors smooth or inexistent?
Etc.
Where to find distributors in Switzerland?
Desk research
Swiss companies generally have excellent websites and are registered in related industry associations. A thorough desk research should help you identify a few good Swiss importers, wholesalers, or distributors. It isn't 100% guaranteed that they have an English website, but at least most have one (in German/French/Italian).
Tradeshows
They are only a few large tradeshows in Switzerland due to the size of the country. Yet, some are relevant and are an excellent opportunity to identify your Swiss wholesaler-distributor.
For example, you can visit some of the following ones:
Feel free to search online; they all have a website.


Online directories and private databases
Finally, you can look inside online directories and databases. They are a friendly source of information.
Here are some of the well-known databases :
Zefix - the official State central business name index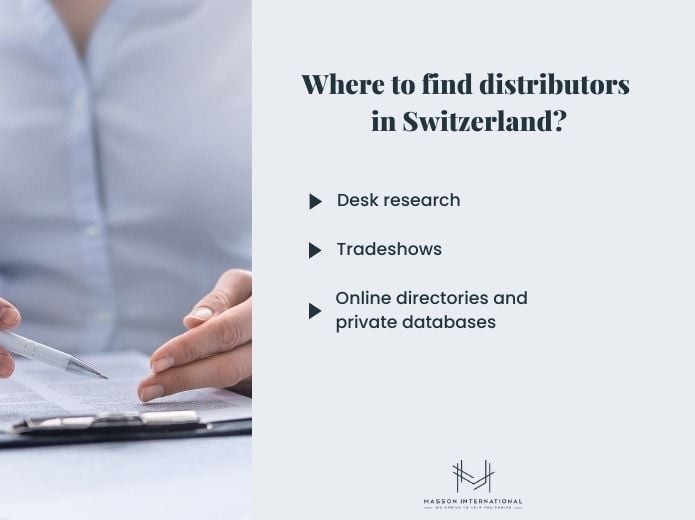 If you need support identifying a Swiss distributor, one of our core (and most asked!) services is the Distributor Search. Feel free to message us or book an introductory call through our contact page.