It could be pretty challenging to find a distributor in Belgium. Often, there are stumbling blocks to overcome before signing a distribution agreement with the right Belgian distributor.

That said, it's far from impossible: you will succeed with the proper method and knowledge.

This post will explain why having a distributor in Belgium is essential, describe the most common stumbling blocks, and share where you will find the best distributors in Belgium.
Why find a distributor in Belgium?
Located at the center of Western Europe, Belgium has a strong economy. The country ranks 23rd in GDP among the world nations (549 billion euros annually). The country imports 537 billion euros in products and services from other countries. It makes it the 23rd most importing country in the world.

The top five countries it imports from are the Netherlands (20.4%), Germany (14.2%), France (11.2%), USA (5.6%) and Ireland (4.7%).

The Belgian population is nearly 12 million inhabitants, and its purchasing power per inhabitant is one of the highest in the EU, near the German one. Its GDP per capita is nearly USD 51,000 per inhabitant.

The services sector mainly drives the Belgian market, representing 78.2% of the GDP. The industrial sector accounts for 20.8% and the agriculture sector for 0.9%.

According to the National Accounts Institute, the Belgium economy is split as follows:
Pharmaceutical industry (20.4%)

Food and beverage industry (15.3%)

Chemical industry (15%)

Manufacture of basic metals and fabricated metal products (11%)

Manufacture of rubber and plastic products (8.6%)

Manufacture of furniture and repair and installation of machinery and equipment (5.9%)

Manufacture of machinery and equipment (5.8%)

The obstacles on your way when finding a distributor in Belgium (and how to overcome them)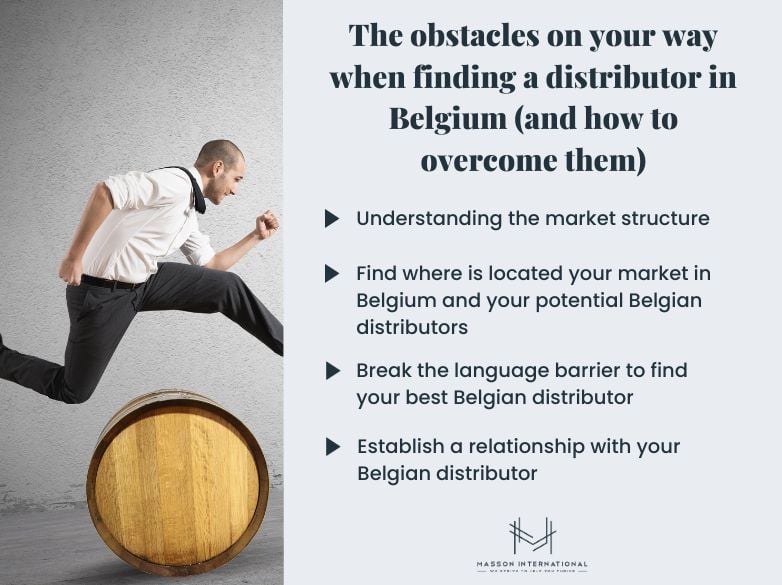 1. Understanding the market structure
Belgium is a country split between three regions of different sizes. Flanders, Wallonia, and Brussels-Capital Region.
Flanders is the largest in terms of population (6.6 million inhabitants), then comes Wallonia (3.6 million inhabitants) and Brussels-Capital Region (1.2 million inhabitants). Regarding their territory size, Wallonia is the largest, followed closely by Flanders and then the Brussels-Capital Region.

The three regions mentioned above have different languages and different economies. There are three official languages in Belgium: Dutch, French and German.

Do not underestimate the differences between the three regions; we notice slight cultural differences and that communication between companies in different regions is not the best quality.


2. Find where is located your market in Belgium and your potential Belgian distributors
As you can read in the paragraph above, Belgium has three regions, and their markets are different.

Before choosing your distributor(s), it would be wise to map your market:
Where are your clients located in Belgium?

Are they spread evenly or located mostly in one region?
According to the result of this preliminary study, you may decide to have one distributor located in one region, or to have two or three distributors. It will depend on the capacity of the distributors identified: do they have a team who can travel across the whole country, and you choose one in the region where most of the clients are located? Or will you need multiple distributors because your clients are all over Belgium?

One example of an industry that is mainly located in one region in Belgium is (study showing it available here): the wood, paper, and printing industry that is located in southern Wallonia.
3. Break the language barrier to find your best Belgian distributor
Belgium has three official languages, and only some distributors have English websites to find them easily.

We always recommend our clients to search the market in the native language, but how will you do when there are three? It would be beneficial to rely on a local company or institution to support you (and we can help you) or hire trainees or employees to do the job.

It is a good thing to search locally in the native language on multiple fronts:
Desk research
Tradeshow events and catalogs (we noticed a large number of exhibition websites are not necessarily in English)
Directories
Attending events
Asking local entities (Chambers of Commerce, Industry associations, etc.)
4. Establish a relationship with your Belgian distributor
Belgian managers are amicable and can be approached easily and in a friendly manner. You must create a relationship and organize a trip to their location. We recommend creating a personal connection and convincing your distributor that you have good products, excellent support to distributors, and your relationship is as essential as the revenues you generate together.

Belgium's economy is a dynamic, mature economy worth developing your business in.
To conclude, our recommendation to find a distributor in Belgium is to:
Understand the Belgian market structure.
Map your company's market.
Search potential Belgian distributors in the three native languages.
Emphasize building a personal relationship with your future distributor.
Masson International helps each year dozens of foreign companies and EDOs (Economic Development Organizations) with market study and analysis, partner and distributor searches, B2B invoicing and warehousing, business development services, HR solutions, and company set up or acquisitions in Belgium, France, and Switzerland.

Let's talk if you are ready to expand your business in Belgium.