The region of Europe is a fertile ground for successful medical device distribution. According to the latest industry estimates, the region is all set to experience continuous demand for medical devices--propelling the market size to a whopping USD 171.1 billion by 2027. This presents a unique opportunity for medical device manufacturers, particularly those on North American shores, to find a strong foothold in Europe.
But how successful you are hinges on the European medical distributors you partner with. A good distributor will help you crack the market, but an excellent distributor will ensure that you enjoy continued success and ultimately expand your bottom line.

We have put together this handy guide on how to find the best medical device distributor. Follow along with our step-by-step process to find the top medical distributor in Europe.
1. Evaluate potential markets
Before you shortlist your potential European medical distributors, you have to zero in on the potential markets into which you want to venture. Depending on the size and scale of the market and the types of medical devices you manufacture, there are several key factors that come into play.

To evaluate all the potential markets and select the best ones for you, here is what you need to do:
Analyze and compare economic situations
No two countries will have the same economic conditions. The same holds true for the state of their health sectors.
Your primary concern here is healthcare metrics, such as:
Health expenditure per capita
Health expenditure as a percentage of GDP
Number of hospital beds per 1,000 population
Number of physicians per 1,000 population
Life expectancy at birth
Mortality rate by cause of death
Percentage of the aging population
Gross domestic product (GDP) per capita
You can find updated information on OECD Health Statistics, Eurostat, and the World Bank.
Compare market size and profitability
The next step in the evaluation process is comparing European countries for market size and profitability. Your new markets should not only be ripe with a large and growing number of potential customers but also support your scaling ambitions. There needs to be sustained demand for medical devices amidst a favorable pricing environment.

The following indicators will help you understand how your potential markets stack up against one another.
Population size and growth rate (Eurostat)
Age distribution and demographic trends (Eurostat)
Prevalence and incidence of diseases or conditions that your products address (ECDPC)
Number of patients, pharmacies, and hospitals
Average selling price and profit margin of your products or similar products in each market
Market share and competition level of your products or similar products in each market
The last two indicators require data specific to your device and the industry, so consider reaching out to our industry research team to have our company do a detailed market report for you.
Compare medical devices legislations
A comprehensive evaluation of potential markets would be incomplete without comparing the legislation governing medical devices in European countries. Markets with clear and harmonized regulatory requirements as well as a streamlined and efficient approval process should be your first preference.
Compare metrics like:
Classification system and risk level of your products or similar products in each market
Registration process and documentation requirements for your products or similar products in each market
Fees and timelines for obtaining approval for your products or similar products in each market
Post-market surveillance and quality management system requirements for your products or similar products in each market
The International Medical Device Regulators Forum and the European Medicines Agency are good places to start to find some preliminary information. Familiarizing yourself with the new European Medical Device Regulation (EU MDR) will also come in handy.
Compare your primary sales channels in these markets
Different medical devices require different primary sales channels (i.e., hospital distributor, pharmacy distributor, orthopedic distributor, sales agent…). If your selected market doesn't have a robust distribution channel in place, it will throw a major spanner in your "distribution works".

Compare the distribution network and logistics infrastructure for your products or similar products in your preferred European countries. This will include hospitals, pharmacies, warehouses, distribution centers, etc.

If possible, also find data for customer segmentation, targeting, and positioning for your products.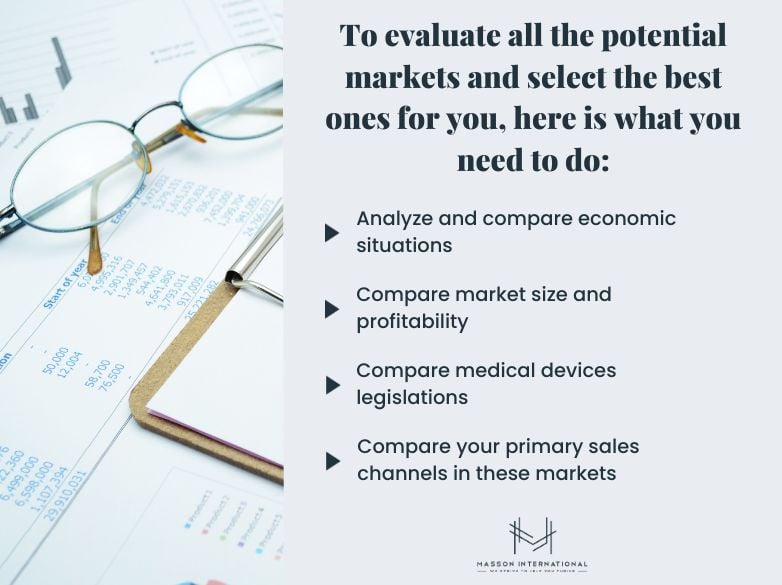 2. Conduct a market study
Overseas expansion is a part of a long-term strategy. You have to consider it a marathon game and play it accordingly. Even before you tap into a new geographical market, you have to have deep-rooted strategies to build a sustainable plan. There are pros and cons to distributing in each country. A thorough analysis of the market lays the groundwork for successfully cracking a new market.

Before proceeding any further, you need to ensure that there are distributors for your type of products in the country. More importantly, they should be willing to distribute your device in their country.

Consider what happened with one of our clients: A medical device manufacturer had chosen France as its new market. However, when they set out to find a medical device distributor, they continuously found doors shutting in their faces. Their product wasn't the reason; it was excellent, in fact. The problem was the level of competition in the country. French companies manufacturing the same range of products had developed their own subsidiaries in the local market, due to which no distributor was willing to come and board and include the client's product in their portfolio.

Our solution to this problem was simple. We advised our client to open their own subsidiary instead of selling through a distributor. While this isn't a common occurrence, it may happen if you are manufacturing a product with high competition and with a mature market. Understand that the lack of an in-depth analysis of a new market won't bode well for your long-term vision.

Adopt a two-pronged approach when analyzing a new market:
Appraise the competition in the new market
It is critical that you have a solid understanding of the competition in your target markets. This research arms you with the ability to make well-informed decisions regarding the type of business model and market entry strategy to implement.
Try to find answers to questions like:

Is there a high demand for your type of medical device on the market?

Are there any barriers to entry (legislation and regulations to protect internal players, exclusive licensing, etc.)?

How do rival products presently stack up against yours?

What is the average selling price for similar medical devices?

What are the dominant sales and distribution channels? Are there any channels that local companies have blocked?

And most importantly, is your medical device better or on par with what the local players are manufacturing?



Answering these questions is crucial for a better understanding of the medical device markets in the European countries you are planning to enter. We recommend grabbing exhaustive reports on specific device categories from independent research agencies, such as Grand View Research. For more in-depth research and market study based on interviews of key players, you can contact our team.
Evaluate the reimbursement policies in the new market
The second aspect of market analysis involves evaluating how your selected European countries enforce reimbursement. The reimbursement system should be sustainable, and the criteria should favor the medical devices that you are manufacturing.
Try and find out:

Is your product used as a solution there? Finding this out is vital, as sometimes certain procedures may not be recommended or reimbursed, and related products are not used.

What is the reimbursement rate and level for your products?

Who pays for reimbursement?

Is the reimbursement process transparent and fair?

What is the update frequency?

You can find this data from sources such as payers, health technology assessment agencies, reimbursement consultants, and industry associations.
With the market analysis now done, you are all set to begin the hunt for potential European medical distributors.

3. Create a list of potential partners
Finding the top medical device distributor in Europe lays the foundation for expanding your business and increasing sales. However, finding one won't be a piece of cake. There is a method to the madness, and the first step is putting together a list of all potential medical equipment distributors in Europe.

But how do you create this list?

A lot of companies just list three to four distributors that they find on the first page of Google. They think that these are the best partners because they are easy to find. But this is a big mistake. You might be missing out on some hidden gems that can offer you better service, quality, and price.

There are many ways to create a comprehensive list of potential European medical distributors.

Search through directories. There are many online and offline directories that can help you find distributors by country, industry, and product category.
Consult an independent. The list of distributors you get is carefully selected and vetoed, ensuring that you partner with the right medical equipment distributor in Europe.
Visit or exhibit at trade shows. Trade shows are great opportunities to establish contact with potential EU distributors. You can attend or exhibit at trade shows that are relevant to your industry and market.
But this is not the end of the story. You still need to evaluate and select the best partner for your business. This will require further research, communication, negotiation, and agreement.
4. Reach out to them and compare their professionalism
The process of finding the top medical device distributor in an European country will be significantly different from choosing a distributor for other industries. Since this is healthcare we are talking about, your distributor should display exemplary professionalism and ethics over and above expertise and experience in the market you are penetrating.

Excellent medical device distributors:

Comply with local regulations. They have the necessary licenses, certifications, and approvals from the relevant authorities. You should ask them for proof of compliance and references from previous clients or partners.
Have a compliant tracking system in place. A complaint tracking system tracks and reports sales and also opens communication channels with the health authorities in case of any issues or inquiries. They should also readily demonstrate their tracking system in action.
Follow the best practices in inventory management. Distributors must employ the most effective solutions for storing, transporting, and delivering your products in a safe and timely manner. They should also ensure that they stock your products under optimal temperature and humidity conditions.
After-sales service. Your distributor should be able to handle any questions, complaints, or feedback from doctors or patients who use your products. The distributor should also be able to provide training, education, and technical assistance to your customers as needed.
5. Select the right distributor/s
You have reached a point where you have extensively researched your options and found a list of potential distributors. However, finding medical equipment distributors in Europe is not the hardest part of the process. It's getting the right one. Wrong distributors can cost you time, money, and reputation, while the right ones will boost your sales, customer satisfaction, and brand awareness.

So how do you select the right medical device distributor in Europe? The answer is simple: ask questions. Lots of them. The more questions you ask, the more information you will get and the better decision you will make.

But what kind of questions should you ask?

Ask them about their organization: Legal status, ownership structure, values, ethics, vision, financial stability, credit rating, etc.
Inquire about their sales: Sales numbers, size of their sales team, qualifications, experience, incentives, etc.
Find out about their current portfolio of brands: Other medical device brands that the distributor represents or has represented in the past. Were the distribution rights exclusive, or non-exclusive? Is your device compatible with their current portfolio of products?
There are a lot more questions you should ask them, covering a wide range of topics, such as after-sales service. You will find the complete set in our download whitepaper "The ultimate guide to finding a distributor in Europe."
6. Prepare and sign contracts with one or more European medical distributors
You enter the last leg of the selection process with this step. Contracts are the backbone of a long-standing manufacturer-distributor relationship. When you sit down together and work up your contractual relationship, you have to be precise in defining the scope and thoughtful about repercussions.

A few important points you should consider:
Sales and exclusivity terms
Define the sales regions and set down the terms of exclusivity. Some distributors may insist on exclusive rights to distribute your medical devices in European countries. Whether to concede to their exclusivity demands or not depends on how it aligns with your long-term strategy.

You should set down the terms of cancellation under some circumstances. For instance, if your distributors fail to meet minimum service or sales levels.
Payment terms
You also want to flesh out the details and conditions pertaining to payments and refunds. Your distributors will either pay you in advance before you ship your products, or they may accept a Letter of Credit (LOC) from a bank authorizing them to collect payment once the shipment is dispatched or on meeting other stipulated conditions.

Servicing agreements
Your contracts with European medical distributors must also factor in servicing agreements and provisions for returns. If your medical device requires regular maintenance, chalk out the complete details with your distributor about the scope of maintenance and its frequency.

In the case of complex medical devices, it would be a good idea to compare the costs of setting up service facilities against the cost of shipping medical devices back home for servicing and shipping them back. Also hash out liability issues in the overall context of your servicing agreement.

Once the distribution contract is inked, your hunt for the right European medical distributors draws to a close.
Do you need support in drafting a medical device distribution agreement in a European country? Our partner law firm and our team can support you with contract strategies and contract engineering.
Pitfalls to avoid
Several manufacturers occasionally drop the ball during their distributor process and end up with the wrong medical distributors. We have identified two major pitfalls, and it would be remiss of us not to include them in this guide.
Pitfall #1: Falling for the Big Fish Syndrome
Some distributors project themselves commanding a huge share of the market and a wide network of contacts, but in reality, they only have a small customer base comprising of just a few doctors, hospitals, or pharmacies.

They might use impressive marketing materials, websites, or trade show booths to create an illusion of being bigger than they are. This is what we call the "big fish syndrome".

If you partner with such a distributor, you will limit your market potential and miss out on opportunities to reach more customers. You will also fail to receive the level of service and support befitting a distributor who claims to be a leader in the industry.
Pitfall #2: Ignoring Compliance Issues
Another common mistake that manufacturers make is choosing distributors who do not respect compliance. Compliance is a crucial aspect of the medical device industry. It ensures the safety and quality of the products and protects the rights and interests of the patients. Working with a distributor who does not comply with the local laws and rules may have serious legal ramifications for your business.
Conclusion
Finding the best European medical distributors can be a challenge, but if you follow the steps outlined in the guide, you can successfully flip the odds in your favor. All you need is a guiding hand that can lead you to the right distributor for your medical devices in European countries.

Masson International is a trusted name in Europe and one of the world's leading business development service providers. We help foreign companies and EDOs (Economic Development Organizations) with market study and analysis, partner and distributor search, sales distribution, foreign direct investments, and arranging meetings with important actors at trade shows.

Let's talk if you are ready to expand your business in Europe.