Europe has always experienced a steady rise in demand for medical devices. That's set to change, as trade experts expect the upward demand curve to steepen in the near future. Homegrown medical devices may not be enough to keep up with the demand. And we are already witnessing signs of this.

As a result, an increasing number of hospitals and medical care institutes in European nations are banking on global medical device manufacturers to fulfill their medical device needs. This presents a promising prospect for medical device manufacturers and companies planning to set foot in Europe.

The European medical device market is fertile, with explosive growth opportunities throughout this decade. And this market study will explain how.
It will highlight:
A brief overview of the medical device market in Europe
The current state of the medical device market and the market dynamics
Growth opportunities in the medical device market in European
Key challenges that several companies can expect when they foray into the market and what they can do about them
The European Medical Devices Market — An Overview
The European medical device market faced a slew of challenges in the wake of the devastating pandemic. Instances of supply chain disruptions increased. Regulatory delays became all too frequent. But most importantly, the demand for critical care products scaled an all-time high.

Medical device manufacturers were constantly under pressure to optimize and innovate. Despite several European manufacturers rising to the occasion, it still wasn't enough, leaving it up to new local entrants and global manufacturers to take up the mantle.
The European medical device market in numbers
Here are some key market statistics on the medical device market in Europe:


Opportunities in the European Medical Device Market
With the prospects looking promising in the medical device market, Europe is perfectly poised to solidify its stronghold even more. There are four key areas that provide the most opportunities for corporations and SMEs in the European medical device market.
New and emerging markets
The market will expand beyond the traditional key players like Germany, France, the UK, and Italy. Scandinavian nations of Norway, Denmark, and Sweden are expected to experience higher demand.
For Instance:
The Scandinavian nations will continue to grab a larger slice of the European medical device market every following year. These countries offer many opportunities for innovation and collaboration, as well as challenges such as regulatory compliance and market access.


A slew of technological innovations
Technological innovations will continue to be the key drivers of the growth and development of the medical device market in Europe. The advent of artificial intelligence in healthcare is set to transform a range of advanced medical equipment.

Surgical robotic systems (like the da Vinci Surgical System, the Mako Robotic-Arm Assisted Surgery System, and the Senhance Surgical Robotic System, for instance) that assist surgeons in performing complex and delicate procedures with high precision and accuracy.

Cardiology devices are expected to show a high annual growth rate (CAGR 2023-2028) of 5.34% fuelled by stronger demand, leading to an expected market volume of US$24.99 billion by 2028.

3D printing technologies that produce customized and complex medical devices, such as implants, prosthetics, surgical tools, and bioprinted tissues and organs, will also see a rise in demand.

Nuclear medicine imaging devices will use radioactive substances to produce images of the body's organs and tissues, revealing their function and metabolism.

Even the demand for highly personalized medicine, such as In vitro diagnostic medical devices (IVDs), in which non-invasive tests are used on biological samples (blood, urine, or tissues), is set to rise.
Advances in digital health
Digital health is another fast-growing sector that offers many opportunities for medical device companies, healthcare providers, patients, and other stakeholders.

Telemedicine equipment, as well as virtual, augmented, and mixed reality devices, will be in high demand thanks to the rising demand for digital health in Europe.

The telemedicine market size in Europe is estimated to grow from USD 11.32 billion in 2022 to USD 21.80 billion by 2027, with a compound annual growth rate (CAGR) of 14% over the five-year forecast period. The AR and VR market is expected to be USD 46 billion (EUR 43 billion) in 2026, growing at 35% during the forecast period 2018-2026.
New business development strategies
There are some exciting trends shaping up that can help companies in the sector craft winning business development strategies.

Technologies such as the Internet of Things (IoT), Artificial Intelligence (AI), Machine Learning (ML) are three of the most promising prospects. The speed at which these technologies are evolving and their rising rate of penetration amplify the capabilities of medical devices, such as enabling remote monitoring, diagnosis, treatment, and personalized care. Investing in this particular trifecta can help companies net massive returns in the future.
Demand for innovative and value-based medical devices in developing economies is also on the rise. India and China, in particular, are experiencing a surge in demand for medical devices. To enjoy the "first-mover advantage" in these countries, companies will have to revamp their traditional business and operating models and adopt evolving medical technologies.
But this journey to conquering new markets may not be a cakewalk. There are a few challenges companies in the medical device market in Europe must contend with.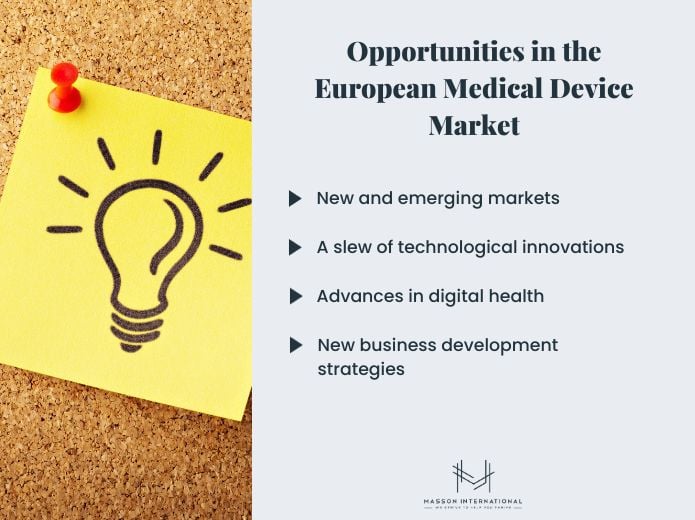 Challenges and obstacles in the European medical device market
Experts have identified a few key challenges and obstacles companies can face in the European medical device market. Here is a nutshell view of each of them:
Compliance and regulatory pressures
The EU very recently rolled out the European Union Medical Device Regulation (EU MDR) with the intention of bringing transparency to the regulatory framework for medical devices in the EU. The new regulation also makes the framework more patient-centric.

The EU MDR tightened the regulations covering clinical evaluation, quality management systems, labeling, and traceability of medical devices. The regulation also expands the scope of medical devices, such as software, apps, and certain cosmetic products. The EU MDR will fully come into force on May 26, 2024, after a four-year transition period.

These regulations pose significant challenges for medical device manufacturers. There will be additional costs tagging along efforts to comply with various requirements and standards.
Rising competitors
The European medical device market has always been highly competitive. But it is also easily susceptible to global trends and developments. One can expect the competition to heat up slightly, so medical device manufacturers will always have to be on their toes.

However, several of these companies manufacture medical devices that are replete with issues like sub-standard effects and questionable quality control and compliance issues, which bodes well for other global manufacturers.

As long as they adopt robust business expansion strategies and play their cards right, they can keep their rivals from swooping in and eating off a good chunk of European market share.
Market volatility
The European medical device market faced a litmus test not too long ago. The demand for medical devices shot up during the COVID-19 pandemic, catching several manufacturers off guard. This created opportunities and challenges in equal measure.

But even without extraordinary emergencies, the medical device market may continue to be highly volatile.

Factors like trade barriers, economic fluctuations, and political uncertainties can all have a significant impact on the sector. Medical device manufacturers will have to be creative if they want to navigate this minefield successfully.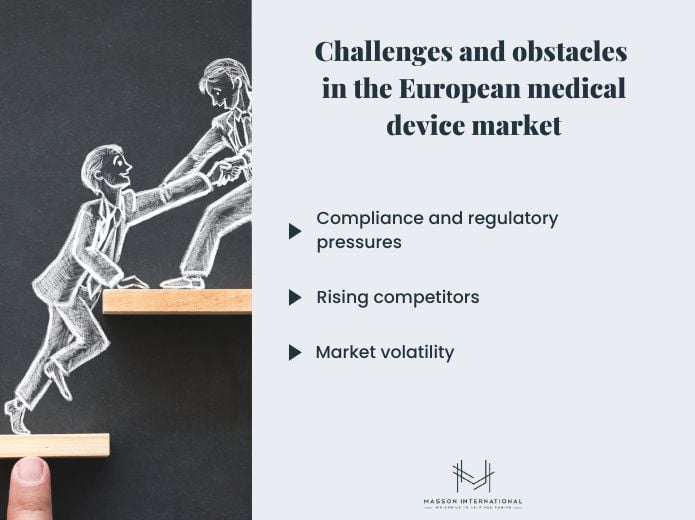 Conclusion
The medical device market in Europe is poised for stupendous growth in the next five years. This creates several exciting growth opportunities for medical device manufacturers, regardless of their scale and size.

These prospects, however, don't come without their share of challenges. Manufacturers will have to comply with an increasingly complex set of regulations.

Only medical device companies that keep up with global trends, adopt evolving technologies, and adapt themselves to market changes have the best chances of finding continuous success.
Frequently Asked Questions
How many medical devices are in Europe?
There are currently over 500,000 types of medical devices and IVDs in Europe. The largest markets for medical devices in Europe in 2022 were Germany, France, the UK, Italy, and Spain.

What are medical devices in the EU?
Medical devices in the EU are used for medical purposes, such as diagnosis, treatment, prevention, or monitoring of diseases or injuries. They can range from simple thermometers and intrauterine devices to complex equipment like pacemakers, ventilators, or infusion pumps.
What is the EU standard for medical devices?
The EU standard for medical devices consists of two new regulations that fully replaced the previous directives in May 2021. Regulation (EU) 2017/745 on medical devices (MDR covers general medical devices, active implantable medical devices, and accessories for both. Regulation (EU) 2017/746 on in vitro diagnostic medical devices (IVDR) covers devices used to test specimens from the human body, such as blood or urine.

What is the market potential for medical devices?
The market potential for medical devices is expected to be high. The growing prevalence of chronic diseases, the increasing emphasis on early diagnosis and treatment, and the rising number of surgical and diagnostic procedures will ensure that the demand for medical devices remains high.